Children's Private Orthodontist in the West Midlands
Jump long NHS queues with our private orthodontic clinic. We offer private braces for teens starting from just £1995. With private braces, you can start treatment straight away without the wait, which can result in shorter treatment times.

Request your consultation today
Find your nearest
Bhandal dental practice
Private orthodontic treatments and braces for children
Children's orthodontic treatments can detect potential future dental issues quickly, and safe procedures help to create a great smile and straight teeth to be proud of from an early age. Metal orthodontic braces are highly effective in straightening the teeth, whereas ceramic braces offer a discreet alternative as they match the colour of the teeth.
Lingual braces attach to the back of the tooth, hiding them from sight, and nearly invisible aligners, Invisalign braces, are now available for ultimate discretion. Most brace options will be replaced or tweaked every two weeks to progressively move teeth into the preferred position.

The benefits of private orthodontics
Avoid long NHS queues

Increases confidence

Early detection of dental issues

Free consultation
Private teenage orthodontics
Clear, removable aligners that straighten teeth in as little as 6 months.
Invisalign for Teenagers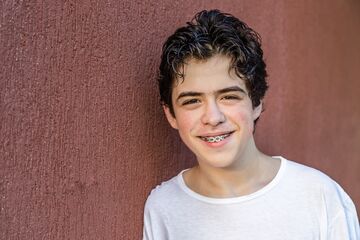 Free consultation for private orthodontics
Seek expert advice from our professional orthodontic consultants during a free consultation and understand more about the remedial solutions, including metal, ceramic, lingual and invisible braces.
Private dental care and children's orthodontics are available from the age of ten with Bhandal Dental Practices. Procedures are swift and can start before all the adult teeth are in place. Some mild teeth issues may not be covered on the NHS, in which case private dental procedures are the only option to perform cosmetic solutions. Private orthodontics also offers a wider range of solutions, including Invisalign.

Patient Journey
Your child's smile journey starts here
1
Free smile assessment
We will check your child's teeth to determine if they are a suitable candidate for orthodontics.
2
Visualise the results
See how your child's smile could look after treatment with SmileView.
3
Finance options
We will offer a comprehensive treatment plan with payment options, including finance.
4
Treatment begins
Your child can begin treatment right away, with no waiting lists, assessments or referrals.
5
Return for checkups
We'll schedule regular checkups to monitor the progress and adjust your child's braces.
6
The smile reveal
At the end of the treatment plan, we will remove your child's braces and fit a retainer to wear at night.
Frequently asked questions
How can we help?
The main difference between NHS and private orthodontics is the availability. NHS braces are only available for certain cases, and your child may not meet the requirements. There are also age restrictions to consider and long waiting lines, so your child might age out of the free treatment category before they have had a chance to start treatment. Private treatments also offer a wider range of solutions, including Invisalign.

No, you do not need a referral for private orthodontics. If your child does not meet the clinical requirements for braces on the NHS, or if you would like to start treatment sooner, private treatment could be the ideal option.

Most children will have all their adult teeth by the age of 12, which is when they can start to consider orthodontic treatment. However, some mild teeth issues may not be covered on the NHS, in which case private dental procedures are the only option to perform cosmetic solutions. With regular checkups, we can begin monitoring their teeth for signs that braces might be required in the future.

This will depend on the severity of the teeth issue. In general, treatment will last between 18 months to two years. However, every case is different, and we will be able to give you a more accurate estimate during your child's consultation.

Do you still have questions?
We offer excellent care and advice regarding our wide range of treatments to all of our patients.
Find your nearest practice
Patient stories
Hear from our happy patients
I am very nervous with Dentist but Dorsa made my visit very comfortable. Very highly recommended

Susan Brayshaw

Jul 23,2023

Just had a fantastic craftsmanship done by Dorsa @Bhandal Dental practice on my front tooth. Excellent work and attitude. I get overly nervous at dentists. But i think this was the first time ever I actually got calmed down and did not rip the arms of the chair. Thank you, Dorsa, much appreciated.

Dagnis Dancitis

Jul 3,2023

Dorsa was fabulous, due to poor experiences with a different surgery in the past, I am utterly terrified of the dentist. However Dorsa put me at ease and constantly checked how I was feeling, I underwent NHS and cosmetic treatment and the results brought on happy tears, my teeth have never looked or felt so good. Thank you for giving me my smile back.

Laura Longhurst

Jun 29,2023

My dentist was called dorsa today and she was amazing talked me through the whole Procedure and made me feel really calm x

Excellent dental work, as good as private. Good manner, quick, tender, relaxed. Very good. Thank you Dorsa, and Meera.

Micky Armstrong

Jun 25,2023

Don't usually see this dentist (Dorsa) My usual one Luckie was not available, I was having deep filling and she kept me at ease, explained everything she was doing and was so gentle that I didn't even feel the needle for when she froze my mouth. Would definitely want to see her again. Thank you.

It was a very good experience. The doctors were very nice and kept on asking me if i was okay.

Dorsa was really kind and nice. She explained everything to me really well as well giving me advice. I feel safe and comfortable. I would totally recommend her she's amazing 😊😊

I was so nervous and felt really anxious during my procedure today but Dorsa and her colleague ( sorry I should've asked your name ) were absolutely wonderful and were so patient with the patient:) I can highly recommend! Thanks again ladies!

Jeannette Mason

May 31,2023

Great service! All staff polite and friendly and my dentist Dorsa did amazing work on my teeth

I like to leave reviews, when I've had an excellent service.... the receptionists( Lisa and Rebecca) always have a smile to greet you on entrance....the dentists(Dorsa and Morva) are so professional and so very friendly...dental nurse (Meera)again greet you with a friendly smile....all of the other staff, who I can't name, also always smiling.

Deanna Shields

May 18,2023

I have been a patient with Bhandal for many years and I have never had a bad experience. I have recently had some composite bonding done by Dorsa who has done a fantastic job, she has a real eye for detail and has given me back the confidence to smile.
Quality, cost-effective dental treatments
Book your free consultation today
A consultation is an ideal opportunity to ask questions about your oral health and learn more about general, restorative and cosmetic procedures to suit your lifestyle and budget.
0121 561 3526